Book Review: The Future Ancestor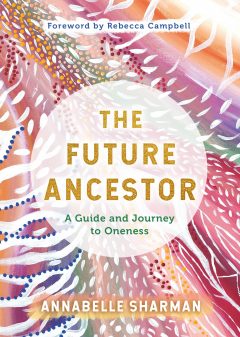 Annabelle Sharman—an Aboriginal woman of the Mutti Mutti tribe—describes herself as a Spirit Weaver, helping guide people in the practice of YUMA: a "Dreaming to live in Oneness." The Future Ancestor offers readers pathways to form their own journeys to Oneness.
Sharman also shares her personal journey to Oneness after surviving a traumatic childhood. She was orphaned, and, as an Aboriginal child, experienced the very real threat of being taken from her tribe. That threat continues to haunt her today. What continually saves Sharman is a dedication to the sacred wisdom of her people.
The book is organized around five themes or threads: connection, ceremony, immersion, peace, and home. Connection is the medium that links us to one another, the present moment, the future, and the Ancestors. Ceremony is reflected in the beat of the drum and clapsticks of Sharman's Aboriginal culture, and in her YUMA Healing Spirit Cloth ceremonies.
The third thread of immersion is into Oneness: that sacred place where separation from the divine disappears. Peace is a path to finding freedom and healing. For Sharman, finding peace meant coming to the realization that she was her own sacred space. Peace is also about surrendering and letting go of fear.
The final thread allows Spirit to guide us back home. While home is a safe place, the process of getting there can be messy. This process often involves us unintentionally collecting heavy baggage, leaving us feeling trapped or caged. We arrive home only after realizing that home is a sacred place within oneself.
Sharman is still working at weaving herself back home into Oneness, thread by thread, and encourages her readers to do the same. Being a part of this Oneness means being not only part of our own ancestors, but becoming a future ancestor as well.

---
Similar articles with the same tag: