Book Review: Beautiful Trauma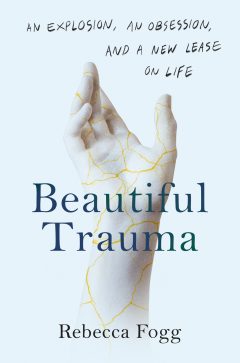 Beautiful Trauma by Rebecca Fogg is rich in philosophical insights, humorous surprises, bizarre happenings, and amazing feats. Readers will quickly be drawn into Fogg's personal story about a tragic accident inflicting extensive damage to her right hand and her journey to recover.
In one especially philosophical section, Fogg writes about finally shedding the fallacy that had burdened her for as long as she could remember: that if you worked hard enough and made all the right moves, you could live a sorrow-free life. Fogg chalks up the loss of that fallacy as one of the many benefits she gained through her tragic experience. She learned other lessons, too: loss doesn't have to be the chief architect of our lives; complete self-sufficiency is neither achievable nor necessary; life, for every adult, is starting over all the time.
While exploring a serious topic, Fogg finds ways to inject humor, lightheartedness, and optimism in the telling of her experience. She also recognizes that the resources she had for healing are out of reach for many people. She uses the term "meta-tragedy in trauma" to call attention to this concern.
While some of the medical and anatomical descriptions are detailed, the language Fogg uses is interesting and understandable. The descriptions of what she experienced physically and emotionally are clearly and honestly stated. And, as each reader will no doubt discover, Fogg's descriptions have a poignant way of pulling at the heartstrings.
By the end of the book, the significance of the title becomes apparent, relating to what a friend of Fogg told her after learning about the accident: "You're lucky this happened to you." We realize, as we read the story, that Fogg's gains outweigh the losses. At the end, we readers are left with a stockpile of resources to build us up during times of adversity.

---
Similar articles with the same tag: