Music Review: Keep Me Singing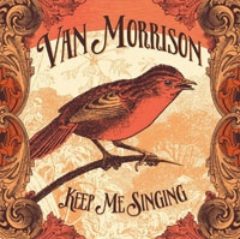 Keep Me Singing
Van Morrison
Caroline International
Keep Me Singing is Van Morrison's 36th studio album—his first since 2012—and the singer's smooth voice and bluesy lyrics remain immediately recognizable. While there's no equivalent on the latest album to the rock 'n' roll side of Morrison—á la "G-L-O-R-I-A!"—these 12 new songs (plus a cover of "Share Your Love with Me") will appeal to longtime fans and newbies alike, with Morrison weaving his poetry with loving string sections, organ chords, slide guitars, and easy-on-the-ear harmonica solos.
Born in Belfast in 1945, Morrison was a traveling musician by the time he was 13. In 1964, he formed the band Them and in 1967 scored his first pop hit with the catchy swing of "Brown Eyed Girl." His albums include Astral Weeks (1968), Moondance (1970), and No Guru, No Method, No Teacher (1986).
A country flavor is sprinkled on the opening tune "Let It Rhyme," where Morrison sings, "Too much water flowing underneath the bridge / Let the world go by / Contemplate what is…" The song "Holy Guardian Angel" comes complete with backup singers providing "oohs" and "aahs" while Morrison croons, "Nobody knows the trouble I've seen / Nobody knows my sorrow…" Later, Morrison pays homage to the Beat Generation of 1960s San Francisco with "In Tiburon," which reminisces on beatnik hot spots (City Lights Books, North Beach) and counterculture leaders like Lawrence Ferlinghetti, Jack Kerouac, Allen Ginsberg, and Lenny Bruce. Morrison produced all the tracks on Keep Me Singing, whose closing track, "Caledonia Swing," is an instrumental featuring himself on piano and saxophone.
---
Similar articles with the same tag: