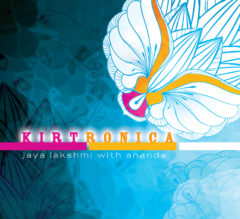 Jaya Lakshmi with Ananda
The latest creation by American vocalist and multi-instrumentalist Jaya Lakshmi is exactly what the name Kirtronica implies: a fusion of call-and-response devotional chanting and electronic dance music. Accompanied by her partner, Ananda Yogiji, and various guest musicians, the pure-voiced kirtan leader meshes the sounds of acoustic instruments like flute, guitar, and tabla with digitally crafted beats and pulsating 16th-note synthesizer lines, forming a cyborganic backdrop for her melodic invocations of deities like Radha Govinda and Ganesh.
Kirtronica harks back to Lakshmi's work with the late-'90s/early-'00s group Lost at Last, which merged trance music with exotic live instrumentation and chants from spiritual traditions around the world. Adding to the full-circle feel, one of that band's key members, the multi-instrumentalist Priyo, appears on two tracks: "Sita Ram" (electric guitar) and "Jai Ma" (sarod).
Of this album's seven songs, only one—the serene, poignant "This Is the Day"—is not based primarily on a Sanskrit mantra. "This is the day when I throw it all away to the fire of the all-loving One," Lakshmi sings, ending the set with a deeply moving prayer of gratitude and surrender.
While Kirtronica may be inspired by Lakshmi's past, it serves as a window to the future, as if offering a preview of a time when civilization's wisdom catches up with its technological sophistication deftly, and with compassion, humility, and elegance in the service of the spirit.
---
Similar articles with the same tag: