Music Review: The Spirit of Healing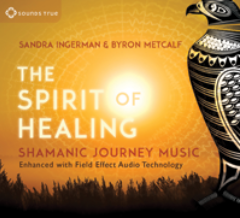 The Spirit of Healing
Shamanic Journey Music
by Sandra Ingerman & Byron Metcalf
Sounds True
There's a lot to be said for music that's grounded in rhythmic repetition and smooth, organic cycles. Tribal ceremonial music offers an experience more rich than a simple exciting of the senses; ancient rhythms offer the human brain a chance to settle and expand simultaneously. This effect is well known to indigenous shamans all over the world and is a feature of music from Australia to Peru, New Mexico to Ghana.
The Spirit of Healing: Shamanic Journey Music was designed for use in conscious ceremony, with three extended tracks: "Cleansing and Purification," "Dreaming Into Being the World You Want," and "Transfiguration: Your Inner Light." With each track playing for 25 minutes, there's time and space to settle into an inspiring journey that builds and intensifies and then returns to a grounded two-minute cool-down.
The Spirit of Healing is an audio experience that lifts the listener to a new plane of awareness through indigenous rhythms and instruments, including drums, rattles, and bells played by Sandra Ingerman and Byron Metcalf, who also provided analog synth waves to support the flow. Dashmesh Khalsa adds didgeridoo.
Ingerman (also an author and licensed therapist) and Metcalf (who has a PhD in transpersonal psychology) claim the album's effect is strong enough to require a warning in the liner notes: "Do not listen to this CD while driving. FEAT (Field Effect Audio Technology) is quite safe for most people. However, if you have a history of seizures or auditory or mental disorders, do not listen to FEAT without consulting your physician or other qualified healthcare professional."
---
Similar articles with the same tag: