Film Review: Walk With Me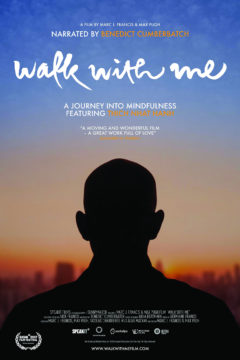 Narrated by Benedict Cumberbatch (his rich, mellifluous baritone is immediately recognizable), this beautifully immersive documentary was produced over three years among the Buddhist monks and nuns of Plum Village, a monastic retreat and mindfulness center in the French countryside. The center was established by Thich Nhat Hanh, a Vietnamese monk exiled from his homeland due to his antiwar activism in the 1960s. Most of that information comes from an onscreen text at the beginning of the film—the rest of the movie provides very little context.

Instead, we are captivated by the spectacle of these monks and other pilgrims going about their rituals and meditations and daily lives. We see them pour tea, carefully prepare a meal, shave their heads. We see them talk with others about their beliefs and their lives. Directors Max Pugh and Marc J. Francis stretch these moments out, portraying them with quiet, contemplative patience. It's all quite mesmerizing, and structurally daring as well: As you watch this film, you might notice your breathing slowing down as you become aware of your presence and of your present. To put it another way, this is a mindful movie about mindfulness. If you would like to arrange a local screening of this film, go to walkwithmefilm.com/host-a- screening.
---
Similar articles with the same tag: