Music Review: Anarchist Gospel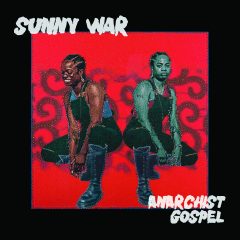 Sunny War's third album Anarchist Gospel brings together Americana roots, Delta blues, ecstatic gospel, and electric folk with the energy and directness of punk rock. The eclectic singer, born Sydney Lyndella Ward, moves from despair to renewal with rhythmic guitars and banjo, forward-thinking lyrics, and an uplifting choir that includes Allison Russell, Jim James, David Rawlings, and Chris Pierce, with whom she also partners in the duo War & Pierce.
Front and center on Anarchist Gospel is Sunny War seeking balance. On the song "I Got No Fight" she wonders, "Will I survive the war inside my head?" In the Los Angeles punk scene, Sunny War overcame addiction, and music became her guiding light. She returned to Nashville to record Anarchist Gospel.
Anarchist Gospel is personal and political, sensitive and powerful. Sunny War sings of freedom: "Break the chains / Time to stop policing me" ("Love's Death Bed"); Mother Earth: "She is fighting for her life" ("Shelter and Storm"); and the prison-industrial complex: "Dead or rotting in prison / Exactly how they want us kept" ("Test Dummy").
On "Sweet Nothing," she moves toward hope and resilience: "Let's make a dream of this tragedy / Something to live for." Wholeness arrives on the final song, "Whole," where she gives a shout-out to a pioneering British punk band while urging us to embrace life fully: "Don't you fake no smile if it ain't true / Crass said I am she, he is he, but you're the only you / Don't waste no time / Protect your heart and soul… Today could be the last you know / Happy's how you oughta go." Yes, happy's how we all oughta go.
---
Similar articles with the same tag: