Rosa Parks: Pure Love: An Oratorio of Seven Songs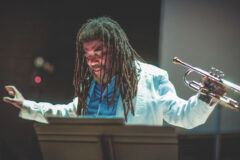 Rosa Parks is well known as the courageous woman who refused to submit to an apartheid system by resisting racist laws. The new album from jazz elder Wadada Leo Smith is titled Rosa Parks: Pure Love. An Oratorio of Seven Songs. Smith, now 77 years old, reminds us that when Parks refused to give up her seat to a white man on that bus in Montgomery, Alabama, in 1955, her action came after long-term nonviolence training and organizing with the NAACP.
"She was an activist long before the incident of the bus and the boycott," Smith told S&H. "Throughout history, human beings have always found the courage to not just resist injustice, but to dare to change the movement of human history." The song "No Fear" features lyrics based on Parks's own words. "Rosa Parks understood that protest for liberty and justice comes from the heart. The heart is the mechanism that causes one to change history."
Rosa Parks: Pure Love is performed by a string quartet, a trumpet quartet, drummer Pheeroan akLaff, electronic musician Hardedge, and three vocalists—one African-American (Karen Parks), one Asian (Min Xiao-Fen), and one Latina (Carmina Escobar). The title song refers to Agape, a loving force that Martin Luther King Jr. often preached. "Agape is this extraordinary love that has nothing to do with human sentimental caring; it is the highest kind of love," explains Smith, a student of MLK's speeches.
"The highest form of liberty comes through spiritual liberation, where one moves from the social, political, and economic realms that control everybody to this other dimension," says Smith. "Everything is connected, and this connection has something to do with the highest manifestation of dreaming, living, and being."
---
Similar articles with the same tag: