Music Review: Age of Apathy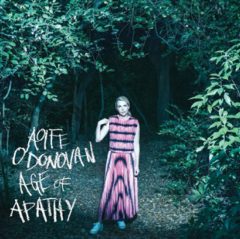 AGE OF APATHY is the first studio album in six years from Irish-American singer Aoife O'Donovan. The Grammy award-winner offers here a contemporary blend of folk, roots, and country music that searches poetically for meaning and purpose in turbulent times.
Guest appearances on Age of Apathy include dynamic vocalists Madison Cunningham and Allison Russell. O'Donovan's vocals are haunting and wistful and paint pictures of lost relationships, snowy road trips, and possible futures. Her vocal melodies are present and upfront and bring to mind a lineage of vocalists like Amy Ray (Indigo Girls) and Shawn Colvin.
O'Donovan has garnered a devoted following over the years with the bluegrass quintet Crooked Still and the folk trio I'm With Her with Sara Watkins and Sarah Jarosz. O'Donovan was also a featured vocalist with the star-studded Goat Rodeo Sessions that included Yo-Yo Ma, Stuart Duncan, Edgar Meyer, and Chris Thile.
---
Similar articles with the same tag: