Music Review: Thanks for the Dance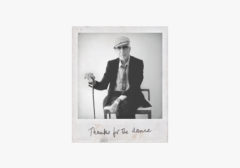 Leonard Cohen's creative output of novels and poetry began in the 1950s. By 1966 Judy Collins had persuaded the Canadian writer to sing his poems on stage. Over the next half century, Cohen recorded 15 albums and toured the world many times until his death in 2016 at the age of 82.
Thanks for the Dance is a quintessential mix of Leonard Cohen's melancholy humor, sentimental insights, and lost-love laments, with a hint of social-political critique. These nine songs were recorded at Cohen's home during the final months of his life by his son, musician Adam Cohen, during sessions for You Want It Darker, the album released 19 days before Cohen passed away.
Cohen was raised Jewish and later ordained a Zen priest. On "Happens to the Heart," his calm baritone voice reflects, "I was always working steady / but I never called it art." The most startling lyrics arise on "Puppets," an attempt to under- stand the horrors of the Nazi holocaust. "German puppets burned the Jews / Jewish puppets did not choose. … Puppet presidents command puppet troops to burn the land."
Thanks for the Dance is a musical quilt with guitar, percussion, violin, and background vocals that were added in Los Angeles, Berlin, and Montreal. Javier Mas traveled to Los Angeles from Barcelona to record guitar tracks using Cohen's guitar. Other contributors include Richard Perry of Arcade Fire on bass and Beck on guitar. Michael Chaves mixed the album in Adam Cohen's garage down the street from his father's house with help from producer Daniel Lanois.
The final song of this posthumous album offers a humble message from the beloved singer who brought the world "Suzanne," "Hallelujah," and "I'm Your Man." On "Listen to the Hummingbird" Cohen beckons, "Listen to the mind of G-d / don't listen to me."
---
Similar articles with the same tag: