Book Review: Walking
One Step at a Time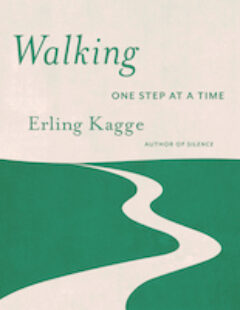 A toddler—a new walker—balances on one foot, then the other, then motors around the room. It never gets old seeing this transformation. But how often do we really stop and consider this, the very act of walking, and how it connects our bodies to our minds?
In his latest book, Norwegian author Erling Kagge examines big-picture questions such as "Why do we walk?" and "What is our destination?" Kagge is well positioned to ponder. He has made countless steps, journeying to the North Pole, then the South Pole, then summiting Mt. Everest. He now works in publishing and has also written about art collecting, exploration, and philosophy, including in his previous book, Silence: In the Age of Noise.
In Walking, Kagge notes that our feet are wondrous mechanical structures that serve a vital role in our emotional and physical health. Kagge is certainly someone who has heeded the advice of Hippocrates, who advised, "If you are in a bad mood, go for a walk. And if you are still in a bad mood, go for another walk." There is, too, the power of walking away. "There is a thrill to not knowing what you may encounter as you walk," Kagge writes. "For one fleeting moment you can forget the rest of the world. Past and future have no role as you walk."
Walking, as Kagge presents it, is a way to hit Pause on life for a moment, to discover that "The present moment and eternity are not necessarily opposites." But it's also a way to take each step at a time, literally, living in the moment, inching forward a bit, and being just fine with the pace.