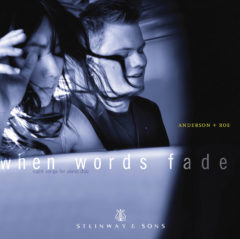 When Words Fade
Anderson & Roe, Piano Duo
Steinway & Sons - ArkivMusik.com
With repertoire that ranges from the Baroque to "avant-rock," Elizabeth Joy Roe and Greg Anderson's new contribution takes music for two pianos and piano for four hands into a new realm. Their youthful enthusiasm is palpable in every measure, and their artistry leaves nothing to be desired. But what makes this album so satisfying is its inclusion of music from different time periods and genres: Schubert's "Der Erlkönig" and Radiohead's "Paranoid Android" are both on the album, together with original arrangements of Baroque-era arias by Vivaldi and the English composer Thomas Arne next to Coldplay's "Viva la Vida" and Michael Jackson's "Billie Jean." Anderson & Roe have proven that it can be done, and the result is a musical experience capable of satisfying both avowed classical musical enthusiasts and lovers of the contemporary sound alike.
The duo met in 2000, while they were both freshmen at Juilliard. Since then, the two friends have performed together all across the United States, earning acclaim for their traditional concert performances, as well as for their YouTube videos. The piano has a long and honorable history, and the Steinway D has to be the king of acoustic pianos, but technology is not absent from this recording. Besides being beautifully produced and engineered by 15-time Grammy winner Steven Epstein, Greg Anderson applied his use of technology to the recording: he read his scores from his iPad, using a foot pedal to turn the "pages."
When Words Fade is Anderson & Roe's tribute to all that music can say that words cannot. It's a winner in all categories. You'll also enjoy the included bonus DVD — the duo's self-produced videos along with a video, professionally produced by Matthew Brown, of "Der Erlkönig," filmed at the Steinway factory in Queens, New York, are a real treat.
---
Similar articles with the same tag: