Film Review: Anthropocene: The Human Epoch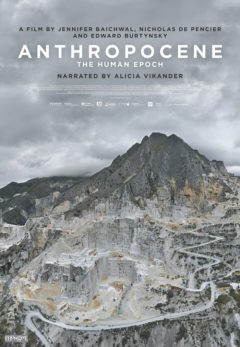 The title of this documentary refers to the widely held belief among scientists that the Earth has exited the Holocene Epoch and entered the Anthropocene—a geological age in which humanity is the primary force acting on the planet's environment. But this is not a scientific film. Rather, it's a poetic one, going around the globe to show us striking, often disturbingly gorgeous images of humanity's dramatic transformation of the world around it.
Each moment is its own visual vignette, in which destruction, industry, and humanity all coincide. We see giant hunks of marble being mined and cut in the ancient Carrara quarries of Tuscany, Italy; a megachurch built to seat a million people in Lagos, Nigeria; and otherworldly, green-hued lithium lakes in Chile. We witness a historic cathedral being demolished and vast tracts of farmland being seized and emptied for a massive coal mine in Germany.
Directors Jennifer Baichwal, Edward Burtynsky, and Nicholas de Pencier understand that the processes they're depicting are profoundly ruinous. But they're not interested in delivering a typical enviro-doc scolding humans for their destruction of the Earth. Instead, in order to make us understand that this is something our planet has never experienced before, they show us images we've never seen before. This is a powerful movie whose overwhelming, unreal beauty makes you feel downright nauseated.
---
Similar articles with the same tag: