Film Review: Chasing Coral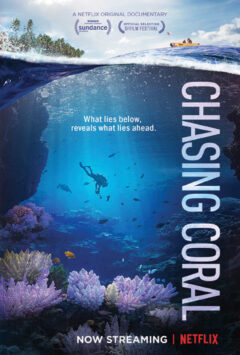 Jeff Orlowski's suspenseful and heartbreaking documentary focuses on the phenomenon of "coral bleaching"—the process by which dying corals turn white and fall apart—and the attempts to capture footage of it, as a way to inform the public. As such, it's the rare movie that dares to tackle the notion of how best to express an idea.
The film is quite subtle in its structure, however: It begins by following the story of Richard Vevers, a former advertising exec and ocean lover looking to put his background and talents to use in the service of climate change activism. But as Vevers, Orlowski, and their collaborators deal with the technological and logistical dilemma of capturing a global bleaching event on camera, the focus switches—to the devastating spectacle of a dying ecosystem, and the effect this has on those who got to witness it. It's an absolutely vital, mesmerizing film. And hopefully it will lead to some action on behalf of our suffering planet.
---
Similar articles with the same tag: