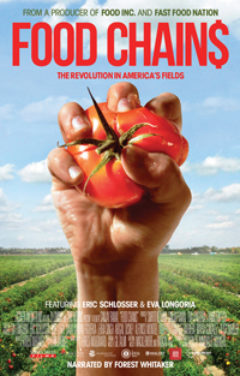 Food Chains
Directed by Sanjay Rawal
SCREEN MEDIA
The ghastly labor practices that America's food workers have to endure are nothing new—everybody from John Steinbeck to Cesar Chavez has addressed the issue at one point or another. Sanjay Rawal's elegantly produced, slick documentary seeks to both connect with that history and explore how the situation has become even worse.
The film centers around a protest by the Coalition of Immokalee Workers in Florida against the supermarket chain Publix. Its most effective scenes simply follow some of these workers and their families as they go through their punishing, endless days—waking up before the crack of dawn, in most cases.
Rawal then builds on that protest by exploring the economic conditions and developments that have exacerbated the situation. The film also travels to other parts of the country—to the vineyards of Napa, where pricey bottles of wine and a welcome surge in tourism mask brutally unfair labor practices. In these scenes, Food Chains (which was executive produced by actress Eva Longoria and Fast Food Nation author Eric Schlosser, both of whom appear in the film) also offers up a critique of wealthy do-gooders who put together fancy auctions to raise money for these workers. Good intentions are fine, but what's needed, the film argues, isn't charity—what's needed are decent, sustainable wages and responsible business practices. Unfortunately, as the film shows us, such justice is still proving elusive in the so-called land of opportunity.
---
Similar articles with the same tag: