Book Review: I Know How You Feel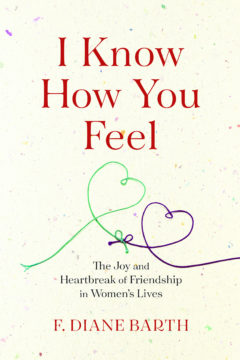 It's not easy to make friends as adults, and becomes more difficult as we get older. At the same time, according to the psychologist F. Diane Barth, women rely on other women for support and camaraderie in a way that men don't feel the need to do. Barth's new book, I Know How You Feel, is a how-to guide for making friends and navigating friendships as an adult woman.

Barth has worked as a psychotherapist for more than three decades, and it shows on the pages of this engaging book. She provides sound advice on everything from how to approach a potential friend, to how to navigate friendships with different personality types, to determining when and how to let go of a toxic relationship. For example, when it comes to healing the wounds of a betrayal, she advises: "It's okay to daydream about revenge, but imagine other scenarios as well. Then think about what it would really be like to go forward with each response."
Barth has cast a wide net and interviewed a broad range of women from around the world, asking questions such as: How many friends are enough? What kinds of friendships are the most satisfying? How do you make friends at particular stages of life? The anecdotes used to answer these questions are often wise, sometimes surprising, and never one-size-fits-all.
There's also some interesting research presented to address the larger, overriding question of this book: Why do we need friends? As Barth puts it: "… we humans are social animals. We need companionship, but we need more than other warm bodies. One of the interesting findings of neuropsychiatry and psychoanalysis in recent years is that we have specific needs for connections. For one thing, we crave a sense that other people see us. …" She goes on to say that this feeling of connection and being seen—flaws and all—is the true key to women's friendships.
---
Similar articles with the same tag: