Film Review: The Divine Order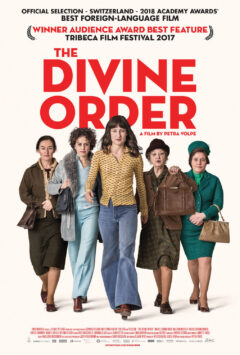 In 1971, as the rest of the world undergoes social and political upheaval, a small village in Switzerland is still stuck in the dark ages, when men are men and women are inferior beings who understand their place in the "divine order." When some local women decide they might want the right to vote, the town is thrown into disarray. Director Petra Volpe's well-acted, atmospheric comedy-drama focuses on a shy young housewife and mother who reluctantly takes matters into her own hands and helps organize a "women's strike"—even though it means the scorn of her own family and her beloved husband. As she gradually finds her voice, the women around her join forces in solidarity.
This is a deceptively complex treatment of a fascinating historical subject: At first, as these women are regarded by the local menfolk and other conservative types with bemusement, the film works like a quirky comedy. But eventually, as the situation grows heated, the story becomes more and more of a drama—and a surprisingly powerful one, at that.
---
Similar articles with the same tag: