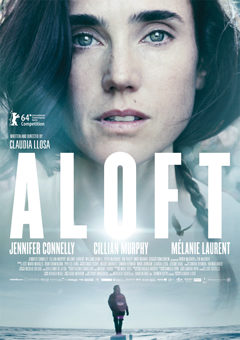 Aloft
Directed by Claudia Llosa
SONY PICTURE CLASSICS
Peruvian director Claudia Llosa's moody, ethereal drama is a curious, sad little tale. It follows two timelines: In one, a single mother (Jennifer Connelly), struggling with the terminal illness of one of her two young sons, pursues a mysterious architect and faith healer, only to discover that she herself might have healing powers of her own. In the other strand, a young journalist (Melanie Laurent) interviews the adult version of one of those sons (played by Cillian Murphy) about his mother's legacy. As the film intercuts between the two story strands, we gradually learn more about these characters, their demons and their hurt.
Aloft is a film about healing in a much broader sense, however. The characters may pursue mysterious, unexplained remedies for seemingly incurable illnesses, but their wounds are often more spiritual. We never actually see anybody get better: These people are seekers, and the film finds nobility in their pursuit more than anything else. As if to emphasize this idea, director Llosa doesn't dwell on illness and death, but rather on human faces and movement: People always seem to be going somewhere in this film, and the restless, handheld camera follows them with a kind of immediacy that keeps us watching. The results are perplexing, and beautiful. Aloft is not easy to summarize, but it's even harder to forget.
---
Similar articles with the same tag: