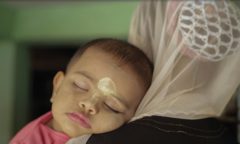 Despite the title, Burmese director Snow Hnin Ei Hlaing's riveting documentary isn't really about childbirth. Except, perhaps, for its opening scene, which shows us intimate footage of a baby being born under the capable and confident hands of Hla, a midwife who runs a small clinic in a village in Burma's wartorn Rakhine province. Hla is Buddhist, the majority religion in the country; her assistant, Nyo Nyo, is Muslim, part of a brutalized minority against whom the government has launched ethnic cleansing campaigns. Hla's clinic provides a variety of services to the local population, many of whom are Muslims. She herself has come under criticism from fellow Buddhists for daring to treat a religious minority in her clinic. All around them are signs of the discrimination Muslims face—protests, official speeches, even anti-Muslim pop songs.
Director Hlaing, who herself was born in Rakhine, spent years shooting this film, and over the course of its 91-minute running time, we see and hear glimpses of the horrific war being waged not far from the village.
Hla and Nyo Nyo work together, but they don't exactly get along. The foulmouthed and brusque Hla is critical, sarcastic, at times even offensive. Part of that is just her style, but it's also a sign of how deeply the anti-Muslim sentiment promoted by the government has seeped into everyday life. There's something inspiring in watching these two women, but it's a complex sort of inspiration: These people can be flawed, petty, even cruel, and yet they manage to provide an invaluable service to a desperate, impoverished community. It's a reminder that heroes are rarely perfect humans. And a reminder of the intense courage that is often required to do the human thing in times of great strife.
---
Similar articles with the same tag: