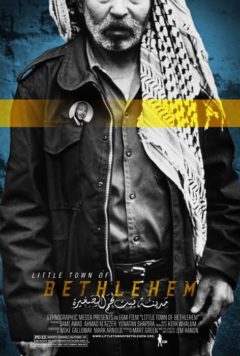 Written and Directed by Jim Hanon / Produced by Mart Green
This film takes the viewer right into the heart of the Palestinian-Israeli conflict through the stories of three men who, although born into the historic cycle of violence, decided to risk everything on finding a nonviolent solution. Palestinian Sami Awad, a Christian leader of the nonviolence movement in Palestine and executive director of the Holy Land Trust, holds a master's degree in international peace and conflict resolution from the American University in Washington DC.
Ahmad Al'Azzeh, a Muslim Palestinian and trainer of peace activists, earned a master's degree in human rights and democratization from the University of Malta and heads the nonviolence program at the Holy Land Trust. Yonatan Shapira, who holds a master's degree in peace studies from the European Center for Peace Studies, was living his dream as an Israeli helicopter pilot until he ended his career by signing a declaration refusing to fly missions that would result in civilian casualties. He now advocates worldwide for nonviolence and does volunteer work with the Israeli Crisis Management Center, Courage to Refuse, and Combatants for Peace.
The film traces the effects of the some of the pivotal events in the Palestinian-Israeli conflict, Brutal in its scenes of bombed-out buildings and the human casualties of continuous warfare, the film is also filled with tenderness, hope, and the deep love of family and the land that both sides in the conflict share. Sami Awad began learning about nonviolence as a teen, inspired by the example of the Rev. Dr. Martin Luther King Jr., and later traveled to India to learn more about Gandhi. Sami's hope is that the humanity of his people will come to be recognized and respected.
Ahmad Al'Azzeh lives in a Palestinian refugee camp, yet he risks his life daily to continue in his work as a nonviolence trainer. Both Sami and Ahmad have been labeled collaborators with Israel by members of their own community and are seen as threats by the Israeli military.
Yonatan Shapira struggles to reconcile his love for his country and his family's military heritage with his growing opposition to the Israeli occupation.
Branded a traitor by fellow Israelis, he is no longer able to work in his homeland. All three men continue to work for nonviolent resolution to the conflict, in spite of death threats from their own communities.
---
Similar articles with the same tag: