The New American Heart Association Cookbook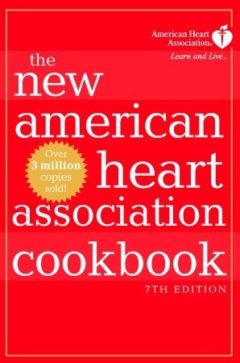 8th Edition
by The American Heart Association
Known fondly as "Big Red," the American Heart Association's cookbook has proved for more than 35 years that you don't have to sacrifice great taste to eat foods that are good for you. Experts from the health and culinary fields have come together to make sure that each of the more than 600 recipes included in this updated edition meets both the AHA's high standards for heart health and the cook's expectations for interesting and flavorful meals. Vegetarian and ethnic dishes and 150 new recipes bring contemporary flair, new cooking trends, and exotic flavors to your kitchen, and the return of classic favorites from previous editions means there's something in it to please everyone's tastes. Healthful and tasty dishes like Pomegranate Walnut Chicken, Cucumber and Mango Salad with Lime Dressing, and Cumin and Ginger Lentils on Quinoa will introduce your family to new foods and spices in exciting flavor combinations.
The AHA revised its dietary guidelines in 2006, and beliefs about the relationship between diet and heart health have evolved. New research has shown that the type of fat you eat is more important than the quantity in the development of cardiovascular disease, and it is now accepted that diet and lifestyle can powerfully impact whether or not someone is likely to develop cardiovascular disease, and can help in healing it if it has already taken hold.
Updated information on trans-fats and sodium, new nutritional analyses, grocery shopping strategies, healthful cooking methods, and menus for holidays and special occasions make the new "Big Red" a welcome reference for great food and healthy living. Expert chefs and beginners alike will be pleased with what they find in its pages.
---
Similar articles with the same tag: