Book Review: Secrets From a Herbalist's Garden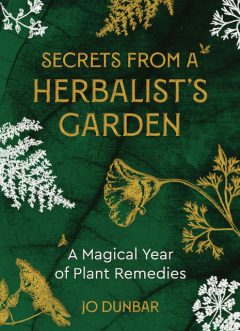 From the title, you might think Secrets From a Herbalist's Garden is about gardening. From the subtitle, "A Magical Year of Plant Remedies," you might think the book is about medicine and healing. And from the Table of Contents, you might think the book is about nature and the changing of seasons. In reading Secrets From a Herbalist's Garden, you'll find that the book is about all of the above, plus more.
Jo Dunbar does a masterful job weaving together a rich variety of themes from wide-ranging topics such as medicine, philosophy, religion, and ecology. While these topics may suggest a heavy read, personal stories, simple illustrations, and clear definitions make the book accessible and inviting.
Dunbar, who has worked for over 22 years as a medical herbalist, knows from both her professional preparation and her clinical experience the ins and outs of herbal healing. She knows the technical aspects of plant remedies; she also knows where to access plants and how to prepare them for healing. She shares directions and recipes on how to use herbs for a variety of ailments, including ear infections, colds, and sinus infections.
Secrets From a Herbalist's Garden is part memoir, part self-help guide, and part nature book. In some places, it's almost like poetry—as in the last section when Dunbar writes passionately about our deep longing to return home, to nature, to the earth.
Dunbar's book can be used in many different ways. If you're looking for ideas on how to celebrate the summer solstice, you can turn to Chapter 5. If you need a good night's sleep, you can make some lavender tea as described in Chapter 6. The ideas, recipes, and gentle guidance offered in Secrets From a Herbalist's Garden are backed by solid research, as indicated in an extensive bibliography of over 80 references. The recipes and ideas also come sprinkled with a bit of magic, leading us along the path to a deeper connection with the land and a more holistic way of living.
---
Similar articles with the same tag: