Book Review: Awakening Together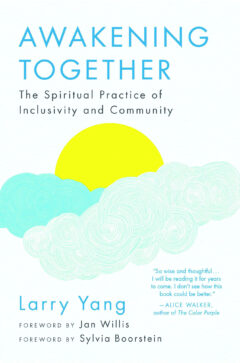 From climate change to white supremacy and the threat of nuclear war, the world's alarming problems seem to be growing exponentially. That means we need to tackle them as teams, as nations and communities, rather than individuals—our 21st-century challenges need all hands on deck. But at the same time, xenophobia, violence, homophobia, and misogyny are also on the rise, further dividing the world. "Now more than ever we need our mindfulness practice. We need the Dharma," writes Larry Yang in his new book, Awakening Together. Yang is a mindfulness practitioner and teacher. He's also a gay Asian who is an activist for inclusivity and diversity within Buddhism. He doesn't simply want LGBTQ people and people of color practicing Buddhism, either—he wants them teaching Buddhism.

Yang writes with a tremendous kindness and wisdom, but he isn't letting anyone off the hook, either. He notes that for the past 50-plus years, the wisdom teachings of Buddhism have largely been bypassed in older Asian communities in the U.S. and been reinterpreted by dominant Western cultures. "The separation of mindfulness practice from the eightfold path and the rest of its spiritual lineage of ethics in order to be efficacious in secular, corporate, for-profit, market-driven worlds is only one example," he writes.
He calls on the Buddhist community to be more open to culturally specific practice venues and programs, and to examine belief systems that were previously held without consideration. "The transformation needed in our spiritual communities is the same transformation needed in the world," he says. "Our world cries out for this transformation."
---
Similar articles with the same tag: