The Last Frontier: Exploring the Afterlife and Transforming Our Fear of Death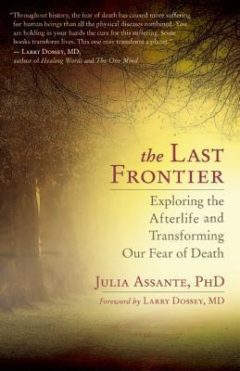 By Julia Assante
If you are fascinated by things that go bump in the night and you're pretty sure there is more to "real" life than meets the eye, then this is the book for you. In an effort to transform our fear of death into a new approach to living, The Last Frontier provides an expansive tour of the paranormal, introducing us to near-death experiences, after-death communication, reincarnation, past lives, the death process, ghosts, angels, remote viewing, telepathy, and fast-forwarding. And what a trip it is! Assante, a medium with 30 years of experience, has seen it all—tall angels around her father's deathbed, tiny ones around her dying cat Twyla, and her own incarnation two centuries from now as a communications expert named Bernerd.
Assante assures us that talking with the dead is a win–win. The living get to conquer the fear of death and receive life-transforming advice from the other side. The dead get to take care of unfinished business and maintain their relationships. For those so inclined, Assante offers a step-by-step guide to making contact.
Skeptics will have a field day with The Last Frontier. Though Assante provides a well-researched primer on the comparative history of the afterlife, when it comes to documenting the evidence for life outside the laws of the material universe, not so much. Aside from her own personal experiences, much of the material here is a retelling (albeit footnoted) of afterlife anecdotes published elsewhere.
Still, surveys suggest that almost 90 percent of us believe in an afterlife. And, says Assante, most of us secretly, inwardly, already talk to the departed. So the trick is to believe in the immortal self and listen up. Because the dead are dying to talk.