Nathan Erwin
Nathan Erwin is an educator, mindfulness practitioner, food sovereignty advocate, and rural poet. With a family tree rooted in the North and South, Alabama moonshiners and Vermont dairy farmers, Erwin grew up in the hills of Newark Valley, New York.
He has taught public and private schools across the US and worked internationally as a staff developer, facilitating literacy and environmental peacebuilding workshops.
Nathan Erwin currently serves as an independent environmental education consultant and poetry editor for Barrelhouse Magazine. His poetry has appeared in a number of print and online publications, including COUNTERCLOCK, Wordgatherings, and The Lullwater Review. His first book Hemp and Farm Justice (Mandel-Vilar Press) is forthcoming Spring 2021.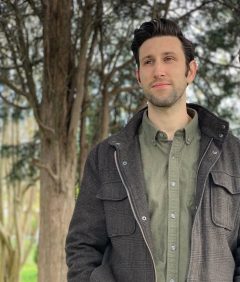 In his newest collection, beloved poet Billy Collins includes poems about spider…
Teaching mindfulness to kids has been said to improve their wellbeing, boost per…
"Giovanni brings a voice of discernment and solidity to our disquiet times. She …