Connect With Our $200,000,000 Market for Career Education and Training
We Created Find Your Calling to Help You Find Your Education & Training Customers
The natural and holistic health and spiritual market is made of people who don't want to settle, but actively seek betterment for their lives. In our April 2021 Find Your Calling Survey, 86% of respondents said they had made a career change during their life. Twenty seven percent said they changed because of dissatisfaction with their job, 18% cited "wanted to love my job," and 17% said "to make the world better." Talk to us for more details.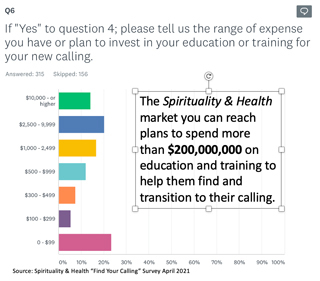 The Spirituality & Health market is a big one. We are reaching more than 100,000 inspired and inspiring people every month, who are prospective new students for your new-career-education and training services. Right now, 54% say they "are considering or have recently considered a career change" and 35% of those say they expect to spend at least $2,500 on the education or training for their new career. Because almost 15% of career changers are aiming high, planning on spending more than $10,000 on a graduate degree the average spend per career changer is $3,823.
After many years of publishing the "Encore Careers" section we're expanding the July-August and November-December issue special sections and growing the online content too, to make "Find Your Calling" a permanent magnet for people seeking the inspiration, information, and education to make their career—and ultimately their life—measure up to their dreams.
While our magazine special section is inspiring, motivating, and informative, it reaches only a portion of the potential market of health oriented and spiritually motivated market that education and training advertisers need to reach. We urge you to buy a complete package of full pages in the print sections, and digital bundle to connect with seekers for their calling in print and online: Only $3,845 will put you in all the right places.
If finding more students to register for your career education or training is your calling, call or email us for more information and a proposal.

Ann Reed: [email protected]
Tabetha Reed: [email protected]
Peter Lymbertos: [email protected]