A spiritual wine tasting experience connects nature and winemaking in revelatory communion.
In my ongoing explorations of wineries in the Pacific Northwest and Northern California, I've learned the ritualistic steps in tasting wine. First, examine the color, opacity, and viscosity (wine legs). Next, identify the aromas through orthonasal olfaction (breathing though the nose). Finally, taste the wine's flavors, structure, and note how long the sensation remains on the palate (its length). But the more I've delved into this topic, I realize there's a spiritual aspect to tasting wine that goes well beyond my childhood experiences receiving wine at communion and later serving as an altar girl and chalice bearer.
Imagination, Complexity, Spirituality
For those like me who are looking to have an elevated wine tasting experience, Nicole Paisley Martensen, creative director for Frey Vineyards in Redwood Valley, California, suggests being open to the senses and approaching wine tasting with imagination. "So often, we live in the safety of our minds. We like something, we don't like something; we think we should like something because everyone else does or because it costs a lot. But what happens when each time we taste the same glass of wine we look for complexity?"
Rachel Horn (pictured above right) is the founder and head winemaker at AniChe Cellars in Underwood, Washington. Like Martensen, she adopts a spiritual approach to tasting wine that brings together mind and body. "As a mind-altering substance and mood enhancer, wine can offer a paradigm shift or spiritual experience by focusing on our limbic system, or pineal (third eye) chakra," she notes.
Our limbic system, or emotion and memory center, is the primary operator in a wine tasting experience, offering an emotional response to the wine. But Horn observes how, with practice, we can develop the ideas and words to further understand this experience.
Drinking in a Winery's Spiritual Terrior
A wine tasting experience starts when you enter a winery or tasting room. Horn recommends checking in with your body at this starting point to ensure the space is compatible with your vibrational energy: "If the place feels right, then it is. If you feel self-conscious or uncomfortable, then it may not be the best place to understand the alchemical process of wine on a spiritual level."
She suggests meditating for a few breaths with your eyes closed as a simple test. (At AniChe Cellars, the space is regularly cleansed with sage and rosemary to assist in creating clean energy.)
Horn feels strongly that the wine tasting experience should be a joyous one. "Commit to bringing love and openness to the space. Commit to leaving judgment and comparison in the car! Focus on celebrating the servers, your friends, your body's experience with transformation, and the wine."
Martensen delights in sampling wine outside, as this is where the aromas and the flavors of the wine revisit the terroir (the climate, soil, and terrain) that made it. "It's fascinating to connect the scents and sounds of the vineyard with the wine in the glass," she says. Likewise, Horn prefers meandering through the vines with a glass of wine and experiencing the sensations of temperature and wind on the earth, vine trunk, and leaves.
This connection to nature and the natural systems that go into producing wine adds spiritual reverence to a tasting experience.
[Read: "Animism and Nature Reverence."]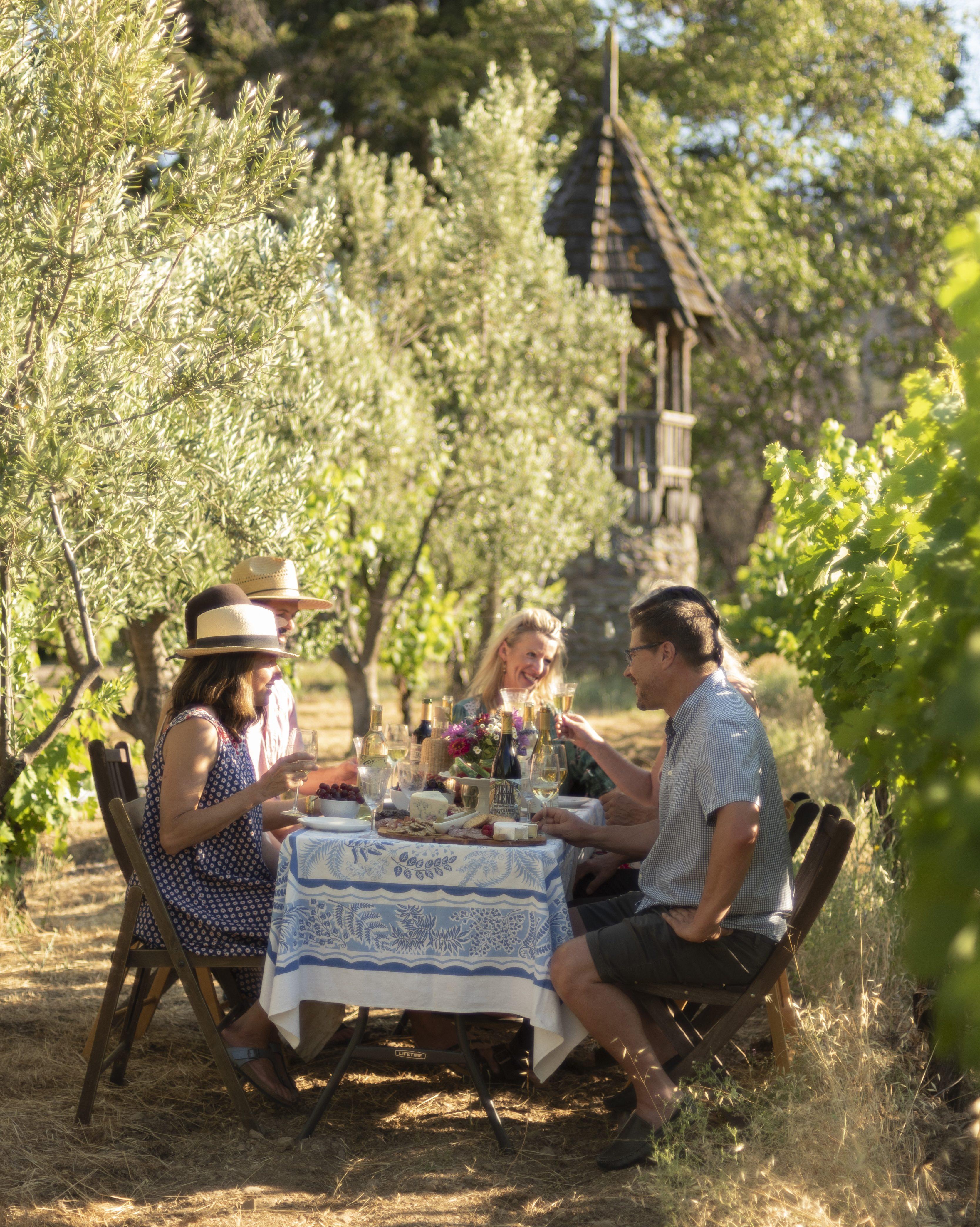 At Frey Vineyards, they're planting a biodynamic native plant garden to provide a habitat for local pollinators and birds. The winery was closed to the public after a wildfire in 2017, but once it reopens, visitors will have a chance to wander among the gardens and learn about migrating Monarch butterflies and their hives of honeybees. Native flowering shrubs, milkweeds, and perennial bunch grasses will be part of a nature trail where visitors can enjoy the beauty of the vineyard nestled in the surrounding oak woodland. They can learn about key plant communities and the wildlife they support. "This kind of immersive experience links us to understanding where the wine came from and what went into making it on a deeper level," Martensen says.
When you find a winery that resonates with your soul, consider sampling its classes and workshops. AniChe Cellars, for example, offers a tarot and wine class and full moon vineyard walks. Membership in a winery club can aid you in tuning into the natural cadences of the season by participating in their spring releases and fall harvests.
Communing and Pairing in a Wine Tasting Experience
If you're not visiting a winery, you can still experience wine in a spiritual way. Horn recommends sensing it on the palate. "Ask the wine about the vine. Attribute any emotional resonance within the wine while asking about the experience of growing."
In Martensen's estimation, when we taste wine along with bridge (complementary) food ingredients, the experience can be next to ecstatic. She identifies bridge ingredients as those foods that help connect us to the wine through their interactions either in flavor, body, intensity, or basic taste (sweet, sour, salty, bitter).
For example, an arugula salad with ginger-roasted beets paired with a dry Gewürztraminer. "This combination can launch us into orbit by bringing out the best of both worlds: the sweetness of the beets vibrating a tension with the dry minerality of the wine, and the nuttiness of the arugula playing off the distinct floral aromas of the Gewürz."

Horn reminds me how the humble act of consuming a meal can become a revelatory experience. "Our glorious taste buds and olfactory bulbs are designed for largess, and good food and wine pairing demand immediate attention," she explains. "The aromas, flavors, and textures of food and wine are sifted through our limbic systems for a reason; gustatory experiences can be deeply emotional and transformative."
Looking for a simple summertime spiritual practice? How about a wine and chi party.