Music Review: Spiral Rendezvous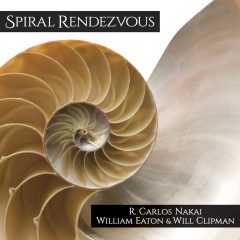 The seasoned trio of R. Carlos Nakai, William Eaton, and Will Clipman have released five albums over 30 years. Spiral Rendezvous is their latest sonic journey of eclectic sound sculptures that gently pulse and swirl, engaging the mind and body.
These three master musicians move gracefully as one whole through songs like "Green Jaguar," "Firewalkers," "Modus Indorum ad Fibonacci," and "Hózhó Nihí Déyá," a Diné (Navajo) phrase meaning "in beauty, we travel." The title song opens with simple udu percussion by Clipman in conversation with Eaton's spiral clef, a hand-made instrument that sounds like an Indian sitar. When Nakai's low Native American flute arrives it's luxurious; the piece rises and rises into ecstasy.
Nakai writes in the liner notes; "The creation of our music is organic, shaped by the uncertain outcomes of improvisation and the accidents of free form collaboration, eventually finding structure through the collation of three separate artistic imaginations."
These nine improvised pieces feature Eaton on handcrafted stringed instruments like the spiral clef, lyraharp, and 26-string guitar, while Nakai plays three registers of native American flute: low, standard, and high. Clipman's drums are from across ethnicities including the udu (West African clay drum), cajon (Peruvian box drum), bodhran (Irish frame drum), caxixis (Brazilian shaker), ipu/heke (Hawaiian gourd drum), and tingsha (Tibetan bells).

---
Similar articles with the same tag: