Love Never Comes Too Late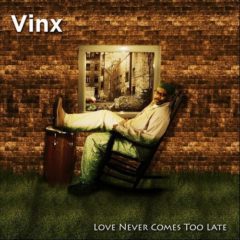 Vinx
Dreamsicle
Primal Pop. That's the way Vinx De'Jon Parrette describes his music. Best known simply as Vinx, he combines a smooth, romantic vocal style of yesteryear with a contemporary, creative sound. He's also a professor at the Berklee College of Music in Boston and leads workshops at his home for singers and songwriters. Sting has declared Vinx a "rare talent."
Vinx's latest album is optimistically titled Love Never Comes Too Late and enjoys roots in jazz, R&B, and soul. This soulful baritone singer also mixes in poppy scat singing, inventive beatboxing and Zen-inspired lyrics that earnestly trace the mysteries of life and love. Vinx's self-proclaimed musical inspirations include the Caribbean sound of Jon Lucien, the sensual baritone of Arthur Prysock, and the rhythmic sensibility of Harry Belafonte.
I would definitely add Bobby McFerrin.
These 15 songs convey the confusion of being captured by romantic love: "We put our hands in the fire / as if this time would be different. I guess that's how we learn / Crazy how things turn." He also covers the bliss and playfulness of sensual and emotional connection: "Draw me near, take me close, find my secrets to reveal. You're the star pointing north to my fantasy." Did I mention that this album is romantic, like candlelight?
---
Similar articles with the same tag: