Music Review: Touch My Soul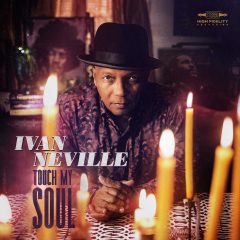 Can you imagine contentment that goes on and on? That's just what Ivan Neville does on the song "Might Last a Lifetime" from his danceable new album Touch My Soul. He sings, "Just feel good for a minute and it might last a long while … Little steps turn into long miles."
Touch My Soul is Ivan's first solo album since Scrape in 2004. Ivan is the son of Aaron Neville and nephew to the other members of The Neville Brothers, and has played with the band Dumpstaphunk since 2003. A wonderful surprise on Touch My Soul is a tasty cover version of the Talking Heads hit "This Must Be Place."
"Hey All Together" opens the album with a message of unity: "You don't like me that much because I don't look like you / I thought things were getting better yesterday, but as time went on, we all forgot to say—we're all together." The unmistakable voice of Michael McDonald appears on this track along with Bonnie Raitt and David Shaw of the Revivalists.
Sly and the Family Stone's 1973 album Fresh was a big influence on Touch My Soul. As Neville explains in the notes, "Music is a way to make people feel better, it brings spiritual healing." Neville also offers his music as an activating force. On "Stand For Something" he sings, "You been put down / They can't stop us / I won't be quiet / Don't just sit and be so passive / Don't deny it—the stakes are too damn massive."
Maybe it's time to let the musicians, poets, and artists be our leaders. Let's dance to that!
---
Similar articles with the same tag: