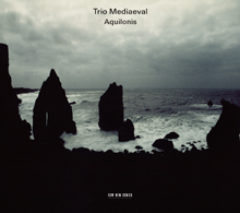 Aquilonis
Trio Mediaeval
ECM RECORDS
Aquilonis is the sixth ECM New Series release from Trio Mediaeval, the dynamic group of three Scandinavian singers. Founding members Anna Maria Friman and Linn Andrea Fuglseth are joined on this new album by Berit Opheim, who has regularly performed with the group for five years.
Named after the North Wind, Aquilonis glides along with pure vocal harmonies that draw on a wide repertoire from religious chants of Iceland to sacred songs from Italy. Norwegian folk melodies and 15th-century English carols are also woven in with contemporary international compositions by William Brooks from the United States, Andrew Smith from England, and Sweden's Anders Jormin, who wrote a piece titled "Ama" especially for the current trio. "Ama" is based on a 2,000-year-old poem by Virgil: "If you wish for love, then love / Life is short-lived for us all / Love overcomes all things / Let us be conquered by love."
This beautiful album was recorded under the supervision of John Potter at the Alpine Monastery of St. Gerold in Austria, and includes the singers accompanying themselves on instruments like fiddle (Friman), portable organ (Fuglseth) and melody chimes (Opheim).
The album's chants dedicated to St. Thorlak, patron saint of Iceland, were rearranged by Trio Mediaeval through experimentation and improvisation. According to Potter's liner notes for the album, St. Thorlak died in 1193, after a "life of miraculous adventure and devotion." Potter describes the Trio's approach to arranging medieval music for modern ears: "Spontaneous polyphony and discreet instrumental support bring the music to life while keeping the spirit of the original."
---
Similar articles with the same tag: