Music Review: Revolutionary Love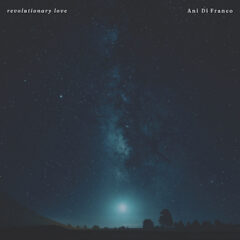 Revolutionary Love
Ani DiFranco
RIGHTEOUS BABE RECORDS
THE BULK OF INDIE FOLK singer-songwriter Ani DiFranco's 21st studio album was recorded in only two days, with several performances captured in just a take or two. DiFranco and her backup musicians sound far from rushed, though—the arrangements are well-developed (note the call-and-response between the strings and the horns in the instrumental section of "Contagious"), and Revolutionary Love's jazz-pop sound is considerably more relaxed than much of DiFranco's past work.
The comparatively soft style of this album matches one of its core themes: showing compassion and openness to those with whom we find ourselves at cross-purposes. The title cut, inspired by Sikh-American activist Valarie Kaur's book See No Stranger, sets the tone: "I'll see right through evil to a wound too scared to show. I have the power to stay open; I have the power to be the one that I've been waiting for—the one who sets me free."
DiFranco sprinkles similar sentiments throughout the album: "I know you've got to fight your adrenaline just to be a gentleman, and you know I've got to fight my amygdala just to keep hearin' ya" ("Do Or Die"); "They go low, you go high. I'm not below you, I'm not above. Yeah, in the center I put love. Yes, in our being, we are the same" ("Contagious").
"Do Or Die" exemplifies DiFranco's ability to stay hopeful in spite of countless dangers, be they natural disasters or "the sheetless KKK" on Pennsylvania Avenue. "If you think your vote doesn't matter, then you're not paying attention," she sings. "Everything they do, they do to keep you from their invention. But we can do this if we try, if we do this like it's do or die." In light of the many attacks on mail-in voting, polling stations, and the democratic process itself, the message rings true.
---
Similar articles with the same tag: