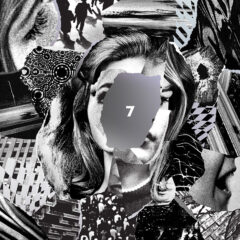 WITH ITS HUSHED FEMALE VOCALS and lush layers of keyboard and guitar, Beach House's atmospheric dream pop is the sort of thing hipsters might sing their babies to sleep with. But soothing and ethereal as it might be, this Baltimore duo's newest music is undercoated with weighty themes: the turbulent events of the past few years, the prominence of women's issues in collective consciousness, the peace that acceptance can bring, and the deepened sense of compassion, solidarity, and beauty that can arise when a civilization suffers a trauma as a group.
SOOTHING AND ETHEREAL AS IT MIGHT BE, THIS BALTIMORE DUO'S NEWEST MUSIC IS UNDERCOATED WITH WEIGHTY THEMES.
For all the intensity of their inspirations, 7's lyrics are often sparse and impressionistic. Some particularly vivid word-paintings can be found in "Lemon Glow," which makes reference to "candy-colored misery—the color of your mind," and in "Drunk in LA," which offers the evocative lines "Memory's a sacred meat that's drying all the time. On a hillside I remember I am loving losing life. Strawberries in springtime, pretty happy accidents, my awareness that I'm lucky rolling clouds over cement." The cryptic allusions to "seven girls at the end of the day—she who sings, she who prays" in "L'Inconnue" (French for "the female stranger")—may be tied to the more esoteric connotations of this album's title: Leaving aside the obvious literal meaning—this is Beach House's seventh full-length album; its 11 tracks bringing their total number of released songs to 77—the duo (vocalist/keyboardist Victoria Legrand and guitarist/keyboardist/ backup vocalist Alex Scally) have noted that many early religions associated the number 7 with spirituality in its highest form.
Musically, "Lose Your Smile" and "Pay No Mind" are among 7's finest moments. These simple, gentle melodies directly target serotonin receptors, providing momentary relief from the insanity of modern life. —DO
---
Similar articles with the same tag: