Music Review: Is This the Life We Really Want?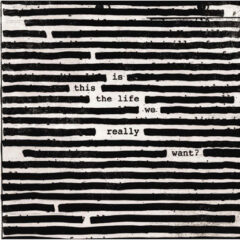 Well over three decades since his departure from the revered psychedelic rock band Pink Floyd, British bassist/vocalist Roger Waters is still writing songs about overcoming us-against-them ideology and tearing down the boundaries that keep people divided from one another. While his usual caustic cynicism is in full evidence on his first album of new rock music since 1992, Is This the Life We Really Want? is far from an exercise in empty nihilism. Rather, it's an expression of a sincere desire to see humans act with more compassion.
Waters's latest lyrics are thick with heartbreak and outrage, as exemplified by the showstopping line "If I had been God … I believe I could've done a better job." Along with making scattered references to an unnamed "nincompoop" who has been elected president, the songwriter offers pithy observations like "It don't much matter wherever you're born; little babies mean us no harm. They have to be taught to despise us, to bulldoze our homes to the ground, to believe that their fight is for liberty, to believe that their god will keep them safe and sound."
From the first moments of "When We Were Young," whose very title recalls the opening line of Pink Floyd's "Shine on You Crazy Diamond," Is This the Life unabashedly echoes Waters's work with his former band. Producer Nigel Godrich (Radiohead, Beck) has ornamented the album with the sounds of ticking clocks, warplanes, barking dogs, bewildered phone operators, and other such Floydian relics. The music itself is similarly self-referential: The instrumentation of "Smell the Roses" quotes from both "Have a Cigar" and "Dogs," the chord progression of "Déjà Vu" borrows lightly from that of "Mother," and "Picture That" sounds like a conference call between "Welcome to the Machine," "One of These Days," "Another Brick in the Wall," and "Shine On." Happily, Waters presents his latest offerings with enough conviction to make these Floydisms sound less like pandering gestures than confirmations that this old dog still has teeth.
---
Similar articles with the same tag: