Music Review: Power of Peace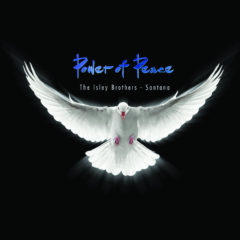 Power of Peace is a joyful album that fulfills a wish of Carlos Santana to collaborate with a band that's been a longtime inspiration for the singer/guitarist—the Isley Brothers. Ronald Isley's voice is so recognizable here as he croons on gospel ballads like Billie Holiday's "God Bless the Child" while brother Ernie Isley spars on guitar with Santana on the album's upbeat numbers like Marvin Gaye's "Mercy Mercy Me (The Ecology)."
Keyboards on the album are by Greg Phillinganes, who has recorded with Michael Jackson and Quincy Jones. And the drums are a gift from Santana's wife, Cindy Blackman, a longtime jazz/rock drummer who toured for years with Lenny Kravitz. Blackman makes her vocal debut here in a duet with Ronald Isley on a song she penned, "I Remember." When Santana suggested that Blackman sing the song herself she was initially reluctant, but the sensual duet comes off as a romantic and playful conversation.
About half the songs are ballads, while the others will have you dancing, like "Are You Ready People?" and the explosive "Total Destruction to Your Mind," originally recorded by Swamp Dogg in 1970. Santana, who turned 70 this year, tears up the funky soundscape with his wah-wah guitar, bringing an edge to the album that Ernie Isley joins to create the heaviest cover of Stevie Wonder's "Higher Ground" since the 1989 Red Hot Chili Peppers version.
Power of Peace is a cherry on top of a long career for the Isley Brothers, which includes having Jimi Hendrix as a guitarist from 1963 to 1965. And who hasn't heard their 1959 song "Shout?" Power of Peace ends appropriately with a brief vocal "om" and the simple, delicate chime of a meditation bell. Peace.
---
Similar articles with the same tag: