Music Review: Spiraling, Ascending with Prayer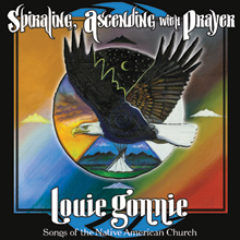 Spiraling, Ascending with Prayer
Louie Gonnie
Canyon Records
Spiraling, Ascending with Prayer opens with creation: "There was a time when darkness was it. In the vast emptiness, light came, piercing the atmosphere," recites Louie Gonnie. The album then moves through nicely produced original pieces dedicated to cosmic journeys, gratitude for spiritual teachings, appreciation for the land of the Dine (Navajo) Nation ("upon sage covered hills and under cottonwood glades"), as well as songs to embrace loss and encourage healing.
All the pieces on Spiraling, Ascending with Prayer are sung in Navajo and English as well as non-word "vocable" sounds. The music and lyrics were composed and performed by Gonnie, a Zuni descendant who began singing at the age of five under the guidance of his father. The album is a powerful presentation of a rich, resonating voice from the contemporary Native American Church movement. The pulsing water drum that feeds all the songs is also played by Gonnie, who writes, "Music has a profound impact on my daily existence. Singing is who I am." Spiraling, Ascending with Prayer embodies the struggles, sacredness, and sanctity of Native Americans.
"Ode to Quanah Parker" is dedicated to one of the last Comanche chiefs, Quanah Parker, born about 1850 to a Comanche father and an English-American mother. By many accounts Parker was a brave freedom warrior and among the first leaders of the peyote-infused Native American Church.
Most of Gonnie's songs have four movements, some gently enhanced by Stephen Butler on Kurzweil keyboard. Bird song surrounds sweet harmonies on the uplifting "May Your Dreams Always Come True," a happy birthday prayer. The final cut was composed for Gonnie's sweetheart.
---
Similar articles with the same tag: