Music Review: Pasado en claro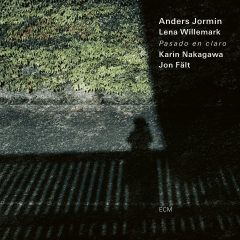 Poetry and improvisation are the passionate threads that weave through the new international album Pasado en claro (The Past is Clear). Jazz, classical, and folk music genres are blended beautifully by Swedish double bassist Anders Jormin with Lena Willemark on vocals and violin, Karin Nakagawa on 25-string koto, and Jon Fält on drums and percussion. These pieces are graceful and imaginative and move through a rainbow of moods, from yearning to ecstatic.
Pasado en claro shines with innovative real-time composing that propels a host of diverse texts sung in Swedish by Lena Willemark. The sources include Petrarca, the lyrical poet of Renaissance Italy, ancient Chinese and Japanese poems, contemporary Scandinavian writings, and the words of Mexican poet Octavio Paz. Willemark's own lyrics are featured on songs such as "Angels," where she sings, "Sit down beside the children and you will feel the wings on their shoulders."
The interrelationship of deep listening between these four musicians is visceral. It's likely that listeners have never heard Japanese koto played like this before. Karin Nakagawa was born in Tokyo and began playing piano at age three. At 12, she started studying the 25-string koto, and two years later was performing concerts that incorporated traditional Japanese sounds with contemporary improvised pieces.
Anders Jormin has recorded numerous albums for ECM since the early 1990s, including Ad Lucem and Trees of Light. He has also collaborated with the Bobo Stenson Trio, Charles Lloyd, Don Cherry, and Marilyn Mazur. Pasado en claro was recorded in Studio Epidemin in Gothenburg in December 2021.

---
Similar articles with the same tag: