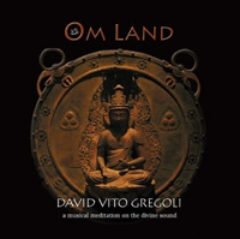 Om Land
David Vito Gregoli
Dharmapala
Om Land is the latest offering from award-winning composer David Vito Gregoli. The album is a loving meditation on the divine sound OM, with the sacred Sanskrit syllable being chanted over an easy-going rhythm that combines relaxed guitar, voice, synth, and percussion with help from Ricky Kej (keyboards), Christo Pellani (percussion) and Kimberly Haynes (vocals).
Vito writes in the liner notes that he's an avid meditator and Buddhist. "Just pronouncing the OM syllables creates a percussive vibration that flows from the back of the throat onto the lips. A-U-M. We started with that very personal and yet universal sound as the core, and then layered on our musical interpretations." In the past Vito has collaborated with Jai Uttal ("Mondo Rama"), Donna de Lory ("Songs of Kuan Yin") and a host of other established World Music/New Age musicians.
Om Land was recorded in Glendale, California, and Bangalore, India, though the Eastern influence on these pieces is minimal. The highlight of Om Land is Vito's skillful guitar work, which he performed on a variety of guitars, offering a range of timbres and tones. Vito's Classical and Spanish training are apparent, and more melodic guitar would've been a welcome addition to these three subdued tracks, running about 22 minutes each. Nylon string guitar is featured on "Saguna," with dobro on "Nirguna" (similar to lap steel guitar); fingerstyle acoustic guitar is the sweet highlight on "Pranava." While the album is nicely crafted and a good fit for yoga or massage, some letting loose would've enlivened the overall vibe of these musical meditations. Om.
---
Similar articles with the same tag: