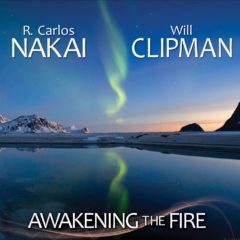 R. Carlos Nakai and Will Clipman
Not counting birdsong, cicada rhythms, and ocean waves, the most ancient music on earth was probably created by the human voice. Next came flutes and drums. Awakening the Fire brings together these timeless instruments, found in virtually all cultures, for a sacred blend that unifies rhythm and flow, structure and freedom, and the individual with community. R. Carlos Nakai and Will Clipman achieve a surprising balance with sounds of contrary qualities: voice, Native American flute,and drums.
Nakai was born into the Navajo-Ute culture and originally studied classical trumpet before becoming a master flute player. Nakai's flute transcends time, with notes extending in long, smooth phrases like slow-motion clouds flowing over mountain ridges. In contrast, Clipman plays a wealth of exotic percussion instruments, including water drum, udu, and Balinese angklung, calling forth a sense of order through rhythm and time.
The musicians share common ground in their support for people in prisons; Nakai has visited Native American inmates at California's San Quentin Prison, and for 16 years Clipman has taught creative writing and music to inmates in Arizona prisons.
The communication between the two creates music they call "passionate and calm." Songs like "Shaman's Trance" are meditative, while "Portal" literally slowed my pulse. Awakening the Fire is an expression of balanced harmony; the final song is aptly titled "Convergence."
---
Similar articles with the same tag: