Film Review: Daughter of a Lost Bird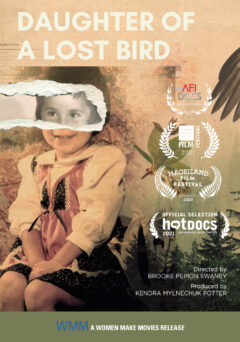 THE TERM "LOST BIRD" refers to Native Americans who were adopted by white families and lost all sense of their heritage as a result. Brooke Swaney's captivating documentary follows the actress Kendra Potter, whom the director first met when she cast her in a fiction film about a Native American woman rediscovering her Lummi roots. It turns out that Kendra herself had discovered relatively late in life that she was Native American, adopted into a loving white family.
The film opens with the first phone call Kendra places to her birth mother, April Newcomb, and follows them as they reconnect. April herself was also adopted, but her family situation was filled with abuse, and she fled home as a teenager before discovering her roots. (She is, after all, the lost bird of the film's title.)
It's an emotionally grueling journey, not to mention something of a Russian nesting doll of cultural displacement. Kendra has just had a child, and as she connects with April, April recalls her own efforts to connect with her heritage and her birth family. Director Swaney, a Blackfoot/Salish woman, presents all this with curiosity and compassion, not to mention restraint. It's a sensational story, so there's no need to present it in a sensationalistic manner. The results are quite absorbing, too.
What remains most touching about the film is Kendra's growing emotional conflict: She feels increasing outrage at what has been done to Native Americans throughout American history—in particular the systematic erasure of their culture through white adoption and assimilation (reflected in the age-old expression "kill the Indian, save the man")—but as a woman raised in a loving, middle-class white family, she also feels some degree of guilt, as if she herself has come to embody that erasure. Perhaps the film's greatest accomplishment is that it refuses to reconcile this dilemma, acknowledging that life rarely gives us easy answers.
---
Similar articles with the same tag: