Film Review: Kiss the Ground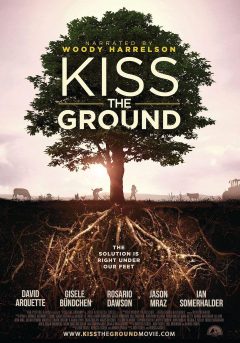 Kiss the Ground
Directed by Joshua Tickell and Rebecca Harrell Tickell
BIG PICTURE RANCH/NETFLIX
WHAT IF THE SOLUTION to the climate crisis was right under our feet all along? Narrated by Woody Harrelson, Joshua Tickell and Rebecca Harrell Tickell's Kiss the Ground makes an eloquent case for the key role soil might play in humanity's ongoing efforts to combat climate change. It's a process called regenerative agriculture, and it's built around the ability of plants to absorb carbon dioxide in the atmosphere.
The standard practice of tilling the soil in between crops degrades the earth and can lead to desertification, which not only makes the land unusable but also prevents it from being able to absorb carbon. Instead, planting year-round, with an eye towards plants that can help renourish the earth, can keep the soil healthy and better able to help reduce CO2 in the atmosphere. This can not only help us stop climate change, but, more importantly, it can help reverse its effects.
The film follows different individuals working towards this effort—from soil scientists to farmers. (Some of these are unlikely sources—cattle ranchers who graze their herds in ways that can enhance regeneration of the soil, for example.) It's not an easy endeavor, of course, requiring many American farmers to start doing things differently than they have for decades, even though, ironically, regenerative agriculture apparently leads to greater profits as well.
This is a fascinating film, but more importantly, it's a convincing one. By the time it's done, regenerative agriculture seems like the most obvious solution in the world. The result is something quite rare: a documentary about the climate crisis that offers something resembling hope for our planet's future.
---
Similar articles with the same tag: