Film Review: More Than Ever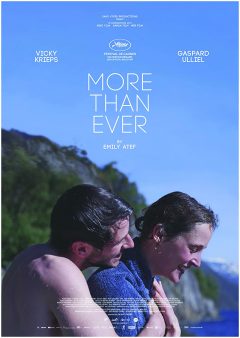 Since her breakout role in Paul Thomas Anderson's Phantom Thread, Vicky Krieps has largely shunned Hollywood supporting parts in favor of leading roles in European dramas. More Than Ever sees her working with rising French filmmaker Emily Atef for a look at how one woman chooses to live out her final days.
Diagnosed with a rare lung condition, Hélène (Krieps) has grown uncomfortable with the way she's now treated by her overly doting husband, Matthieu (Gaspard Ulliel), and their friends. Online, Hélène connects with Bent (Bjørn Floberg), a Norwegian blogger who documents his life with a terminal illness. After communicating with Bent, Hélène decides to travel alone to his home in Norway, much to Matthieu's chagrin.
In Norway, Hélène is surprised to discover that Bent is an elderly gentleman who claims the handsome young man pictured on his blog was merely a hospital roommate. At this point we begin to wonder if Atef's film is about to warp into a thriller, but rather than feeling uncomfortable in Bent's presence, Hélène finds the peace she's been looking for. (It helps that Bent lives at the edge of a lake surrounded by snow-capped mountains.) When Matthieu follows Hélène to Norway, that peace is disrupted.
More Than Ever tackles a difficult subject in a nuanced manner. Hélène is a complicated protagonist, but through Krieps' quietly stunning performance, we come to understand her course of action. There's something tragically ironic in Matthieu's performance, as Ulliel's own life was cut short in 2022.
Is it better to risk passing away on an operating table or face certain death in surroundings that make you feel truly alive? Regardless of your stance, it's difficult to deny Hélène's desire to live her last days by the Norwegian fjords. May we all find such peace in our closing chapter.

---
Similar articles with the same tag: