Film Review: This Changes Everything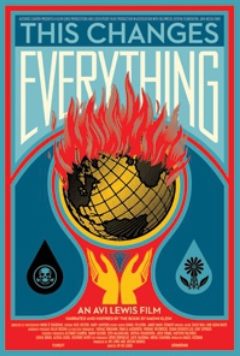 This Changes Everything
Avi Lewis
Abramorama
There have been hundreds of environmental documentaries over the years, but This Changes Everything kicks off with an interesting philosophical prologue. Author Naomi Klein (on whose bestselling book Avi Lewis's film itself is based) relates a visit to a climate change conference where scientists discuss trying to engineer the Earth's atmosphere to cool down a couple of degrees. For Klein, this represents an example of the same kind of thinking that helped fuel man-made climate change to begin with—the notion that the Earth is not a "Mother," but a "machine," and that we are its masters.
Klein then takes us on a journey to a few spots around the world where attempts to drill, mine, or otherwise ravage the Earth have been met with grassroots—and in some cases successful—resistance. She has a journalist's eye and ear, but an activist's spirit: Individual sections of the film are rich in detail, and we really feel for some of the individuals wrestling with these changes, including indigenous leaders fighting to visit their ancestral lands in the Alberta Tar Sands development, and a Montana goat-ranching couple whose Powder River Basin farm is devastated by flooding from a broken oil pipeline.
For Klein, many of these issues highlight the irreconcilable difference between the needs of the Earth and the needs of global capitalism. It's a provocative, important argument, but this is ultimately a confused film, trying to fuse several different stories—some of which would have made interesting stand-alone documentaries—into one worthy, but uneasy whole.
---
Similar articles with the same tag: