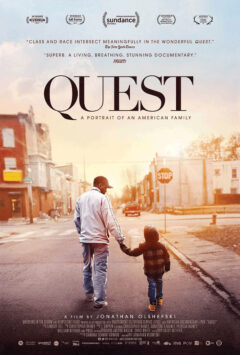 SHOT OVER the course of nearly a decade, Jonathan Olshefski's absorbing, often heartbreaking documentary looks at the life of one North Philadelphia family, their challenges and joys, and the struggle to maintain hope and love in the face of an unpredictable, often cruel world. Christopher "Quest" Rainey is a local music producer who helps support the careers of struggling and up-and-coming rappers; his wife, Christine'a (also called "Ma Quest"), works at a women's shelter. The Raineys gave remarkable access to Olshefski—not just physically, but also emotionally. As a result, the film portrays the quotidian rhythms of life with great beauty, detail, and compassion. Deeply in love but also clear-eyed about life's difficulties, the duo—along with their kids—are quite candid and eloquent about the world around them, and their feelings.
Quest avoids cheap clichés about black and inner-city life. There's plenty of drama in this film—illness, injury, crime, alcoholism, family strife—but what shines throughout is the sense of love and community surrounding the Raineys, even in times of tremendous difficulty. Quest also avoids making easy categorizations or totalizing statements about The Way We Live Now. The filmmakers are content to allow us to spend time with these people; they recognize the power of connection and compassion.
THE FILM PORTRAYS THE QUOTIDIAN RHYTHMS OF LIFE WITH GREAT BEAUTY, DETAIL, AND COMPASSION.
---
Similar articles with the same tag: