Film Review: Costa Brava, Lebanon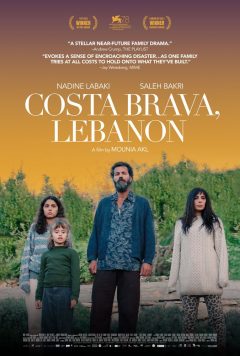 Mounia Akl's film tackles an important and underdiscussed aspect of an important subject. How do you persist as people, as a family, when the world seems to be falling apart around you? And is it even possible to live off-the-grid when the whole world is connected?
In this award-winning drama, a married couple decides to flee the environmental and political chaos of Beirut and settle in a remote hillside home. (The film is set at an indeterminate near point in the future, but it feels thoroughly of-the-moment, and there are references to recent events in Lebanon, such as the 2015 garbage crisis and the 2020 Beirut port explosion.) One day, the government decides to open a massive garbage dump right outside the home. Officials insist that this is an innovative garbage dump and that most of this trash will be recycled—but it's still a massive, toxic heap of trash. Oh, and they're going to erect a statue of the president right next to it.
This leads to the family fighting back, but it also leads to emotional rifts between Walid, the husband, and Soraya, the wife, as well as their children—the teenage Tala and the young Rim, who has only ever known this home. Walid, we learn, was an activist and the prime mover in the family's decision to flee the big city; Soraya was a popular singer, and they had met at a protest. As the thorny drama proceeds, we see how the decision to get away for what one perceives as one's health and emotional wellbeing can lead to all sorts of unforeseen repercussions. Is it better to escape the world or to confront it? In the end, no matter where you are and how far you flee, life goes on.
---
Similar articles with the same tag: