Book Review: How to Live in a Chaotic Climate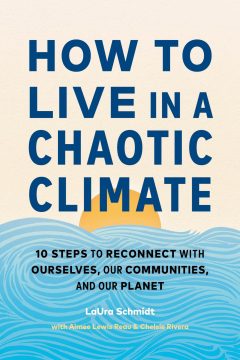 The first few pages of How to Live in a Chaotic Climate may seem ominous: You'll find the words funeral, uncertainty, and grieve in the Table of Contents. Though these words might cause you to take pause, you'll soon discover that the authors, LaUra Schmidt, Aimee Lewis Reau, and Chelsie Rivera, have a positive message about how to live well in a distressed environment. You won't be disappointed with what they have to say.
The authors recognize that many of us are dealing with uncertainty and grief over environmental and social turmoil, and offer a well-formulated approach for dealing with these concerns. This approach is based on a 10-step program designed by Schmidt and Reau for the Good Grief Network (GGN). The "good grievers" who participate in this program often come with feelings of anxiety, fear, and anger, seeking support and healing. Through a series of interactive GGN workshops, their needs are met.
The information and guidance offered in How to Live in a Chaotic Climate give readers the opportunity to experience the healing benefits of GGN. You'll find that the suggested activities and practices are all doable and worth your time and energy. Testimonies from other "good grievers" demonstrate how the program has helped them strengthen their inner capacities for facing the demands of an uncertain future.
The state of the world today gives us many reasons to use the term "Good grief!" as an expression of alarm or dismay. This book offers another interpretation of the phrase. The authors show us how to harness the energy of grief and how to make grief serve a good purpose: to re-establish connections with ourselves, our communities, and our planet. This particular message of "good grief" will lift your spirits and give you hope.
---
Similar articles with the same tag: