Book Review: A Future We Can Love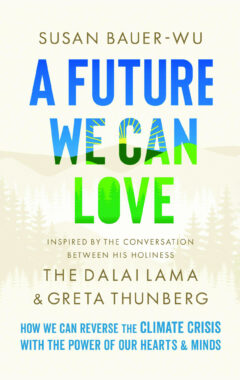 "It's a tense time to be alive," says Susan Bauer-Wu in A Future We Can Love. We feel this tension because the climate is changing, and the future is uncertain. Yet, that's not the primary message of the book. It's actually just the opposite: A Future We Can Love is about hope and the power of humans working with nature to turn things around.
A Future We Can Love was inspired by a conversation between the Dalai Lama and Greta Thunberg centered around the climate crisis. The Dalai Lama emphasized peace and patience; Thunberg was adamant about the need for urgency. While these messages may seem to pull us in opposite directions, we are assured that, by combining these two philosophies, we can build a better future.
The path to this future involves knowledge, capacity, will, and action, each discussed in separate sections of the book. After reading through these sections, it's easy to understand how the climate crisis can be both a threat and an opportunity to create a better world.
While the book never shies away from the reality that this is a tense time to be alive and that we need to act with urgency, it's also filled with optimism and guidance on how to create a future we can love. Before we can create such a future, however, we need to envision it.
Just imagine: What would the future look like if altruism and simplicity were the norm, if an understanding of the interdependent web of existence would guide our decisions, and if we prioritized people and the planet over money and prestige? The Dalai Lama, Thunberg, and other contributors to the book assure us that these and other possibilities for a positive future are within our reach.

---
Similar articles with the same tag: