Book Review: Rethinking Positive Thinking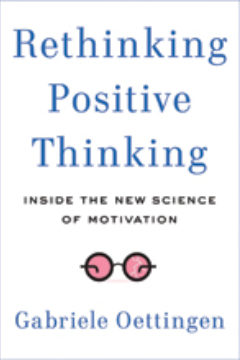 Rethinking Positive Thinking
Inside the New Science of Motivation
By Gabriele Oettingen
Current/Penguin
If you can dream it, you can be it. I hate to rain on your parade, but it turns out that optimistically envisioning the future isn't the secret to becoming happy and successful. In her new book, Rethinking Positive Thinking, Gabriele Oettingen lays out the results of more than 20 years of research on human behavior, and reveals how the cultural mandate to "think positively" actually hinders our ability to turn goals into reality.
Oettingen is a professor of psychology at New York University and the University of Hamburg, and coming from Germany originally, she has a unique vantage point from which to study Americans. During her research, she was struck by the cult of optimism that exists in the United States. Her research, which she goes over in great detail, shows that "in the face of a big challenge or chore, people often fantasize about how it feels to have achieved it. In the moment, the fantasy feels good, and it also feels relaxing—so much that we don't take action." Our blood pressure drops, and we experience a decline in energy and motivation.
More energizing, suggests Oettingen, is using a process she calls WOOP: Identifying a Wish, thinking about the Outcome, identifying the Obstacles, and Planning how to surpass them.
You might resist Oettingen's viewpoint at first, because it so flies in the face of what we have been taught over the years, but give it a try, and you may be surprised how effective her methods are.
---
Similar articles with the same tag: