Book Review: Take The Leap - What It Really Means To Be Psychic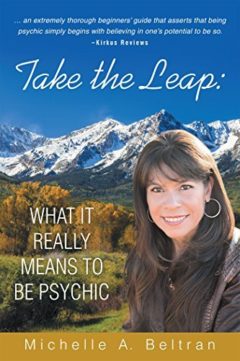 The universal mind is a source that is accessible to those willing to dedicate the time and effort needed to become versed in the psychic realm, asserts Michelle A. Beltran in her guide Take the Leap: What It Really Means to be Psychic. Providing a comprehensive initiation for individuals who feel called to the supernatural world of the psychic, Beltran encourages readers "embarking on a journey of self-discovery to awaken an innate desire to understand the universe." The book offers articulate definitions of all aspects of psychic practice, specifically examining the Sense- Abilities, or "doorways through which your connection with your intuitive, psychic self develops." The work guides readers through the practices and the processes involved in the development of the novice psychic, including meditation, journaling, developing intuition, and selecting a specific training program.
As a psychic medium, author, and life coach, Beltran has an intimate understanding of the profession. With her encouragement and expertise, the book provides an exceptional starting point for those wishing to understand the intricacies of such a remarkable calling. Clear, concise chapters make the information accessible and digestible even for those who are unfamiliar with psychic philosophies. Additionally, her words offer encouragement for everyone to take the time to tune into what the universe is beckoning from them.
Individuals who feel called to explore the sphere of the supernatural and who have a desire to cultivate relationships with those they would like to serve with their psychic aptitude would benefit from Beltran's knowledge. The author's nudge to "develop a new mindset" and "examine what your gifts are" might just revolutionize a path into the world of the universal mind, opening the door to truly see all that is being offered to them and those they will serve with their gift.
---
Similar articles with the same tag: