Book Review: Climate Justice
Hope, Resilience, and the Fight for a Sustainable Future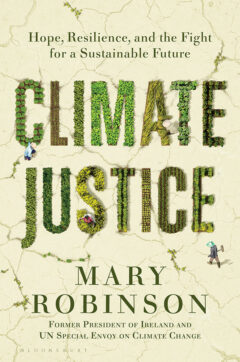 IF YOU'RE ONE of the many whose spirits plummeted when President Trump withdrew the U.S. from the Paris Agreement, you might find some comfort in this new offering from former President of Ireland Mary Robinson. While Climate Justice contains its share of frightening statistics and anecdotes about the consequences of climate change—including accounts of record-setting temperatures around the world and stories of women in southeastern Africa resorting to prostitution to feed their families after losing their crops to flooding—its primary aim is to raise hopes, not hairs.
Robinson, who has served as the United Nations High Commissioner for Human Rights and the UN Secretary-General's Special Envoy on Climate Change, profiles activists all over the globe, most of them women, who are making a difference in the fight to reduce the impact of climate change. Among them are Vietnam's Vu Thi Hien, who left her teaching position at the Hanoi University of Agriculture to help preserve her country's biodiversity and natural forests; the Republic of Chad's Hindou Oumarou Ibrahim, who is fighting to ensure that the concerns of indigenous peoples are represented in the discussion of climate change; and Australia's Natalie Isaacs, whose online movement 1 Million Women is helping women reduce their households' carbon footprints.
THE POOREST COMMUNITIES ON EARTH— THE ONES LEAST RESPONSIBLE FOR CREATING CLIMATE CHANGE—ARE THE ONES THAT BEAR THE WORST OF ITS BRUNT.
The author observes that the poorest communities on Earth—the ones least responsible for creating climate change—are the ones that bear the worst of its brunt. "We need to create a 'people first' platform for those on the margins suffering the worst effects of climate change, and to amplify their voices to ensure them a seat at the table in any future climate change negotiations," she writes. "In the words of Archbishop Desmond Tutu of South Africa, climate justice can be a new 'narrative of hope.'" —DAMON ORION
---
Similar articles with the same tag: